Often in the wintertime, I find it hard to get really pumped about anything, including outfits. The cold weather zaps my energy and with it, my will to look cute. While moping around my closet, I realized that the only thing I really felt like wearing at the moment was this: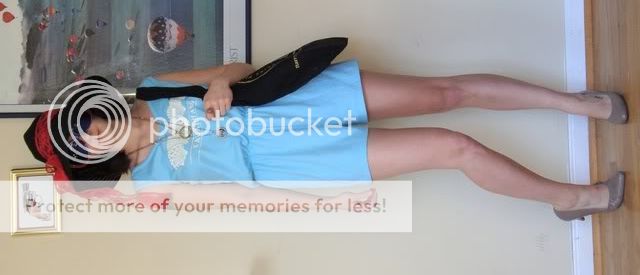 Onesie: Thrifted

Hat: My parents' closet
Red lace: My sewing box
Bag: Won it at a Harry Potter festival!
Shoes: Thrifted

Grannytastic, no? And it's a good thing I decided to play inspiration dress up, because when I looked at the picture, I understood that I actually

am

pumped and inspired about a look right now-- the Granny look! And it can be just as fun with winter sweaters as it is with summer onesies.
Sweater: Thrifted
Pants: They are thermals I usually take hiking.
Shoes, bag: Thrifted
My love of granny fashion has been slowly creeping up on me, and almost subconsciously I have been amassing a collection fit for a woman named Mildred or Gertrude. A simple flickr browse was enough to tell me that I'm not the only one feeling the granny-love either. (All of the pictures not of me were shamelessly stolen from said flickr search. Click the user name beneath the pic to see the flickrs of the younger gals).
Shopambrosia and TheCatsPajamas
The greatest thing about granny fashion is that grannies come in all types and shapes and sizes and so do their clothes-- from extra extra large cardigans to tiny little orthopedic flats. And there are multiple kinds of grannies to suit your every mood! I've organized the Granny Look into three sub-categories:

1. There's the classic "little old lady" granny, adorably awkward in oversized fads from 20 years ago, smelling permanently of moth balls.
2. There's wacky Floridian granny whose greatest loves include slot machines, sparkly colors and pizazz; she's not afraid of gaudy jewelry or a loud heel and is probably looking for a younger boyfriend
.
(think Peggy Guggenheim)
3. And then there's your rich New York granny who prefers to be called Mimi, never leaving the house without her eyebrows pencilled on and her designer hat from 50 years ago adjusted just so. Be nice to this grandma, she will give you real pearls at your graduation
.

Without discrimination, I want to raid every single one of their closets and complete my collection of:
Loafer flats and orthopedics both thrifted.

Sassy shoes!

Gold-rimmed glass fish and gold-rimmed black flower pieces: both thrifted

Hamsa hand: from Israel, gift from sister

Berry jewel ring: A gift from my actual granny!
CalamityJem and Jodache
Adorably awkward knee socks!
Thimblescratch and Strawberrykoi

Pantsuits and Jumpsuits!

My pantsuit: Thrifted
Belt and Scarf: Antique

Shoes and purse: Thrifted
And let's not leave grandpa out... he has some stuff worth stealing too! I love gramps' giant cardigans, his collection of sweater vests and argyle, and his delightfully ugly practical shoes.
Jeans: Forever 21

Red bag: H&M

Argyle socks: Hand me down from long ago.

What is it about old-people style that makes young cute girls want to take fashion tips from their grandparents? Maybe it's because granny loves comfort. Maybe it's because granny loves bling. But I think most of all, it's that granny just doesn't give a crap! She wears what she wants, no matter how out of style it is or how ridiculously it fits. Granny wears what makes her feel good, whether through physical comfort or fabulosity. Next time I am down in the fashion dumps, I will try to keep this attitude in mind.
Hooray for GRANNY FASHION!!
(P.S. Can't get enough of the old-people look? Visit

this amazing blog

dedicated exclusively to the fashion efforts of gramps and grams!! Thanks to Annalise for the tip!)